Looking for a Luxury Modern Industrial Wedding Venue at Lake of the Ozarks? The Exchange venue in Camdenton, Missouri is one of the most sought-after wedding venues in the Lake of the Ozarks area.  The venue blends modern with industrial aesthetics that result in amazing wedding photography images and experiences for you and your guests.
Indoor or Outdoor Weddings
There are two locations at the venue for you to choose to have your ceremony.  You can plan an outdoor wedding in the courtyard or an indoor wedding inside the main wedding venue itself.  This flexibility is a wonderful asset in case of rain. 
The inside has a finished modern concrete floor, brick walls, open ceiling, and a beautiful bar to give the space an industrial-chic look.  And just outside there is a manicured lawn, large deck, fire pit, along with a great space to have an outdoor wedding ceremony and/or reception.
Bridal and Groomsmen Suites
A big part of your wedding day is getting ready.  You will be spending a lot of time in the space provided by the venue that you choose.  The Exchange Venue "getting ready" locations for the guys and girls are luxurious.  
First, the girl's bridal loft is very lavish and has more than enough room.  There are several rooms for the girls and a large bathroom with mirrors and sinks for hair and makeup.  
And the groom suite for the guys is downstairs, with a fridge, TV, couches, and a pool table.  What more can you ask for, right?
The Exchange Venue has plenty of parking for your guests. And it is conveniently located in front and on both sides.  Plus, there is also has a catering kitchen and much, much more. 
The venue location is near many different restaurants, hotels, and resorts at the Lake of the Ozarks for your guests to stay.  There are so many fun things for your guests to do at the Lake of the Ozarks. And all these features help make The Exchange a great destination wedding venue. You can find more information about The Exchange at the exchangevenue.com.
The Photographer's Point of View
Check out some of our other blog posts...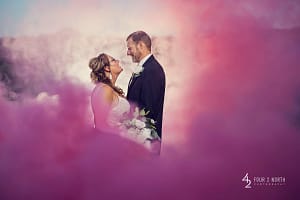 Epic… Awesome…, just a couple words to describe Aaron & Crystal's wedding at Seven Springs Winery on Saturday, July 23rd, 2022! We were thrilled that
Read More »
Are you looking for an exclusive wedding venue at the Lake where most of your needs will be met? Then you may want to look
Read More »
Looking for a Luxury Modern Industrial Wedding Venue at Lake of the Ozarks? The Exchange venue in Camdenton, Missouri is one of the most sought-after
Read More »