Are you looking for an exclusive wedding venue at the Lake where most of your needs will be met?  Then you may want to look at The Lodge of Four Seasons at the Lake of the Ozarks, Missouri. The Lodge offers their wedding couples a full-service experience that is hard to beat.  Plus, the views of the beautiful Lake of the Ozarks are amazing.
Luxury Suites for the Bridal Party and Groomsman

The Lodge offers couples a luxury wedding experience.  Let's start with getting ready for your wedding in the Lodge's presidential suites. The suite offers plenty of space for you and your girls to get ready.  It has a master bedroom within the suite with an oversized bathroom, a large lounge area with a rock fireplace, large table, and deck.  This room radiates luxury!
The guys can either choose to get a presidential suite, as well, or get another room.  They can also request a smaller conference room to prepare for the wedding.  Either way, they will have plenty of room and will be completely taken care of by staff.
The Lodge offers a wedding planner to walk you through the process of booking. Plus, she will be your point of contact during the day of your wedding.  The wedding planner during your big day is absolutely indispensable.  They will help coordinate all the different aspects of your day.
Amazing Wedding Photography Opportunities
Photographing weddings at the Lodge is so much fun!  There are many different locations for pictures at the resort.  The views of the Lake of the Ozarks make stunning backdrops for your creative pictures as well as family and bridal party pics.  Regardless of where you do pictures, each area is unique and amazing.  The Lodge of Four Seasons is one of our favorite places to shoot weddings at Lake of the Ozarks.
If you are looking for a resort with many different options for your ceremony, then the Lodge is where you want to be.  They have several elegant rooms if you want to have your wedding inside.  Plus, there are many outdoor locations, too.  One of our favorites is the rooftop.  The rooftop at the Lodge is large enough for a full wedding and the view of the Lake of the Ozarks is spectacular. 
Another favorite outdoor location at the Lodge is the Lake View Patio.  This has incredible views and is a wonderful place for a sunset ceremony.  The Lodge has many different areas to host your wedding ceremony. You can visit their website to learn more.
Do you need information about artistic wedding photography services at Lake of the Ozarks? Please contact us here.
Check out some of our other blog posts...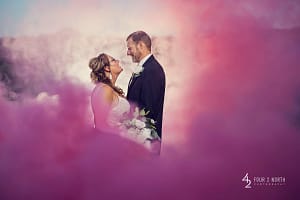 Epic… Awesome…, just a couple words to describe Aaron & Crystal's wedding at Seven Springs Winery on Saturday, July 23rd, 2022! We were thrilled that
Read More »
Are you looking for an exclusive wedding venue at the Lake where most of your needs will be met? Then you may want to look
Read More »
Looking for a Luxury Modern Industrial Wedding Venue at Lake of the Ozarks? The Exchange venue in Camdenton, Missouri is one of the most sought-after
Read More »